Connection and Community in the Virtual Kitchen with Kirbee
Kirbee Miller creates culinary experiences in her virtual kitchen
Kirbee Miller began KiNiMi Kitchen in 2017 to cultivate culinary experiences that promote inclusion and connection. Since switching to virtual classes in April 2020, she has learned how to continue her mission despite being physically distant. We asked her to tell us more about her business, her new popcorn line, and tips for making any virtual meeting more lively and fun.
What is KiNiMi Kitchen and long has it been around?
My heart is in the kitchen. I started cooking and baking at a very young age. I have always loved the creative process of making delicious food. Growing up in Michigan in a cooking family and surrounded by neighbors with various cooking styles, I had a diverse training ground. Whether it was assisting my mother as she made her famous peach cobbler or watching my neighbor as she roasted peppers for her delicious stuffed peppers known around the neighborhood or taking in every detail as my aunt made her legendary seafood gumbo, each session in the kitchen was invigorating! I recall sitting for hours looking through cookbooks with fascination! I would select a variety from my mother's backer's rack, find a quiet place often behind the couch with a blanket, and just get lost in my own culinary world of imagination and possibilities.
I introduced KiNiMi Kitchen in 2017. People need people. However, we often rush past or dismiss people if we don't "see" them. Food is a powerful equalizer that can start beautiful conversation and connection. KiNiMi Kitchen's mission is to cultivate immersive culinary experiences that promote inclusion and connection. I launched this multidimensional brand to share my love for food and people via an online cooking show, cooking classes, as well TV appearances in the Nashville and Chattanooga markets, Pop-Up shops at locations such as Williams Sonoma and Pottery Barn. Most recently, I launched an artisan popcorn line, "KiNiMi Pop."
What ingredients inspire you and why?
Fresh Vibrant Produce + Aromatic and Fresh Herbs & Spices. I LOVE heading to the Farmers Market and spices shops to explore. Seeing and smelling the produce, as well as the herbs and spices, invigorates my creative side. I enjoy developing new and fresh recipes based on what has inspired me at the time.

When did you start offering virtual classes?
I started offering virtual classes around April of 2020. I experienced a surge in requests to host virtual sessions. People were eager to connect and create while navigating an uncertain time. Food and people were a welcomed safe place for all of my clients as well as myself.
Do you have any playlists or favorite songs for the virtual classes?
We do! We have a whole list of playlists that we send out to guests during the class so they can play the music at home. :)
Tell us the about size of classes you offer. What is the smallest group and how large you can accommodate?
I offer private lessons as small as a single person. As far as an upper limit is concerned, it depends on the level of interaction. During the last year the virtual experiences have ranged from everyone being hands on, to a teaching / webinar type of experience that can accommodate 50+.
If you could only cook one meal for the rest of your life, what would it be?

hmmmmmm. wow this could take HOURS to decide LOL!!! If I had to choose, I'd make a big nourishing and inviting brunch! Complete with sweet potato + cream waffles, shrimp and grits just to name a couple of items!
KiNiMi Pop is a crunch preview of the immersive KiNiMi Kitchen experience.
Do you have any tips to make the virtual session (or any virtual meeting, for that matter) more lively and fun?
ABSOLUTELY! Set an intention long before you ever login. Invite participants into the "tone" of the meeting prior to the meeting time, via engaging emails with get ready tips as well as opportunities for them to add their input to the event. For example, setup a method to create a collective play list, send all participants the same spice set, encourage participants to use the get ready guide to shop and prepare their space.
What is your favorite part of hosting a private virtual cooking class?
The collective connection and sense of community. I consider it an honor to guide individuals in meaningful and memory-making experiences. I enjoy seeing people connect in fresh new ways even if they have "known" each other for years.
Anything you would like to add to give folks a better idea of what to expect?
No one get left behind. You don't need many qualifications to be successful or connected during our time together... are you human? do you get hungry? Good! You qualify!
What local makers or products do you like to include in your recipes?
i make trips to the local Farmers'Market and I also like to include spices and sauces from locals and / or other food brands that I know and love. Including but not limited to: Bratton Farms BBQ Sauce, Riley Land Collection - various products,
Tell us about your popcorn.
Crisp, fresh unforgettable. KiNiMi Pop is a crunch preview of the immersive KiNiMi Kitchen experience. KiNiMi Pop includes delicious flavors such as Cajun, Cinnamon Twist and Rosemary Garlic!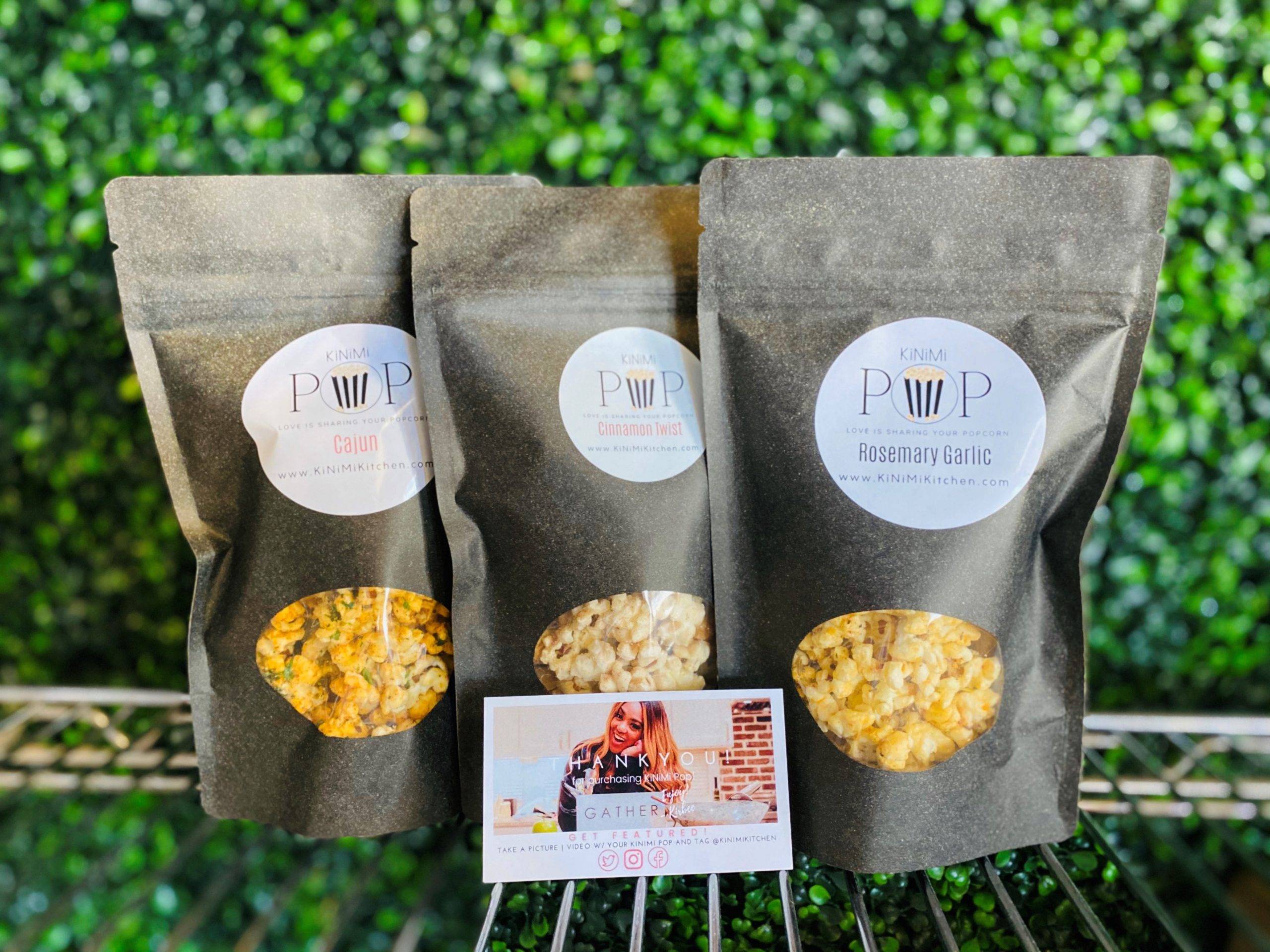 Want to make your virtual event extra special?
Add in-person experiences and connect with virtual attendees by sending gifts from small businesses across America. Fill out the form below and Heather will be in touch with you soon.