Gift sets they will remember made by small businesses all across America.
No traveling? No problem. We're bringing everyone's favorite items from around America a little closer to home with the Batch USA City Series gift sets. Consider these gifts a road trip delivered to your doorstep or a way to send the best of the city to your clients, friends, and family.
---
---
Our San Francisco gift set includes Philz Coffee medium-blend coffee, Etta + Billie soap that is a fresh blend rosemary and lemon soap, apple cider caramels from Little Apple Treats, and seed crackers from Cult Crackers. All products are handcrafted in the San Francisco Bay Area.
---
---
---
Share a taste of Atlanta along with one of our favorite city guides. With sweet and spicy High Cotton Cashews, a trail mix from Xocolatl, and the house blend of Revelator Coffee. Use the Atlanta Wildsam Guide to explore the A alongside Atlanta writers, chefs, artists, musicians, and makers.
---
---
---
Enjoy the scents and tastes of the Queen City with the Taste of Charlotte gift. A medium roast coffee from Summit Coffee Co., a sandalwood candle from Nomad Candle & Co., the Charlotte Mix popcorn from Poppy, and a keepsake Cheers Y'all towel.
---
---
---
Bonnie's light and crunchy brittle, kettle corn from Kettle Brothers, the house blend from Revelator Coffee Company, and a Cheers Y'all towel make the perfect gift from Birmingham. Send this gift to visit the Magic City virtually, enjoy thoroughly.
---
---
---
The authentic taste of Memphis means this gift will be a hit like the home of Stax Records is known for. It's packed with the Spirit of Memphis coffee from J. Brooks combined with Shotwell Caramels and Central BBQ sauce plus handmade leather coasters embossed with the Tri-Star icon of Tennessee.
---
---
---
The mountain town of Asheville in North Carolina is calling. Pete's Extraordinary Granola, Poppy White Cheddar Popcorn, Postre Chocolate Caramels and a Rise & Shine mug mean the recipient of this gift will answer the call.
---
---
What Happens In Vegas Gets Shipped to Your House
---
Get to know the real Las Vegas. These products will make you appreciate the makers from the Entertainment Capital of the World. You'll want to stay up all night enjoying Mothership Coffee smooth medium roast coffee, Beach Bark Brittle Co. crunchy brittle, and a jackpot of Popped popcorn along with a Nevada-scented candle from Southern Firef
---
---
---
---
From the Great Northwest comes four distinct products to make a memorable gift. These ingredients—Trailhead Coffee Roasters Sunbreak Morning Blend, Mt. Hope Farms Autumn Apple Fruit Spread, Chedz Cheese Snacks, and a Oregon state candle—make the spirit of Portland come alive in this gift
---
---
---
Sweet, spicy and full of flavor, this Taste of Austin can be shipped to friends and family who keep hearing about how outstanding Austin is. Cornucopia Salted Caramel Popcorn brings the sweet, Yellowbird Habanero Sauce brings the heat, Iron Works BBQ Rub brings the flavor, and Cuvée Coffee brings the savor. Add in an Austin Sklyine Mug and this gift will make the virtual trip to the Bat City feel real.
---
---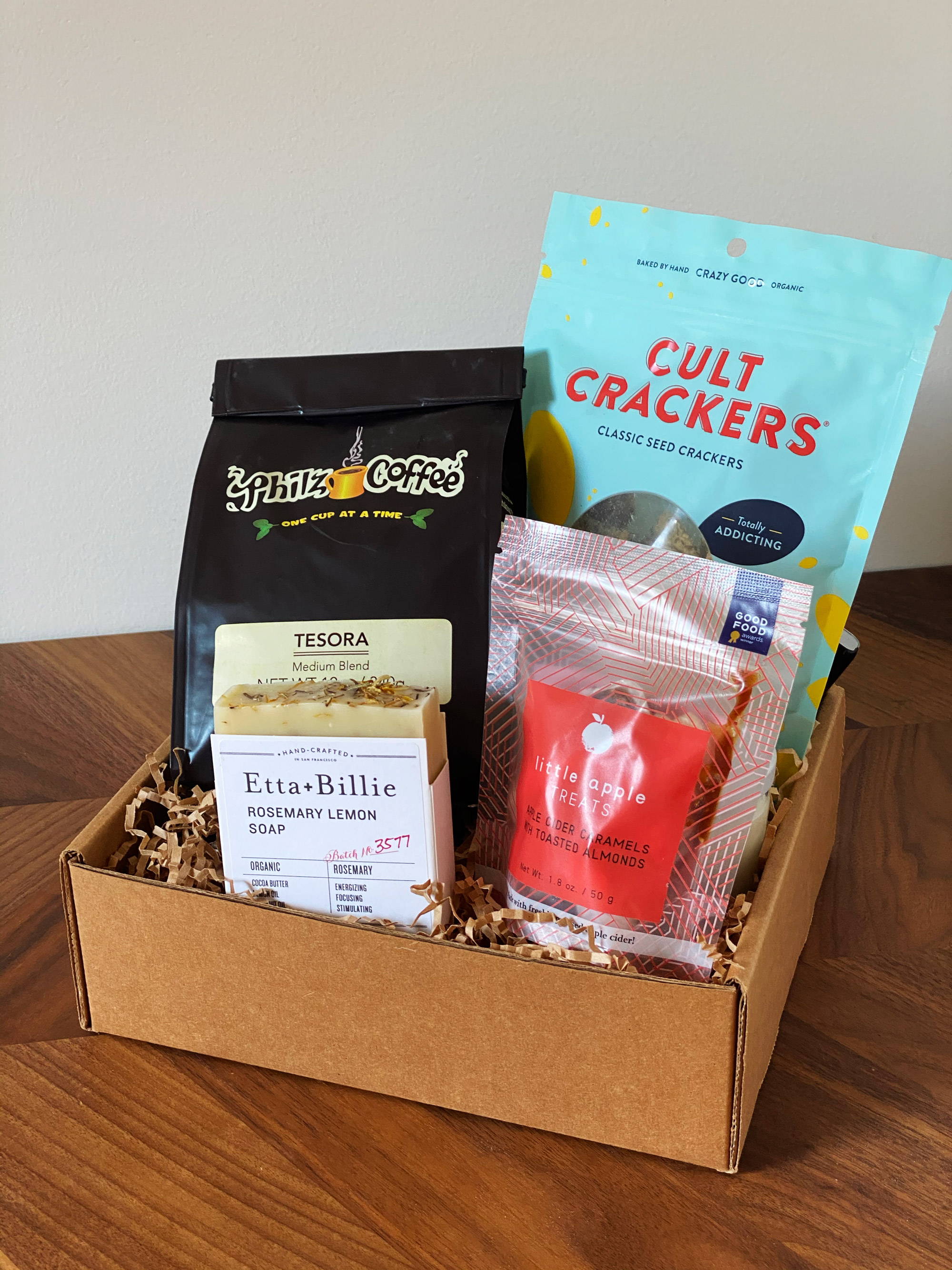 Ready to give a gift from one of these iconic American cities that reflects your company's love it? Need high volume gift for your business?
Please fill out the form below and our team will be in touch shortly. In a hurry or want to talk to a nice human? Then give Nancy, our Vice President of Business Development, a call at 615-475-7500.
Hang in there, our team will be in touch shortly.
This field is required
This field is required
This field is required
This field is required
This field is required
This field is required